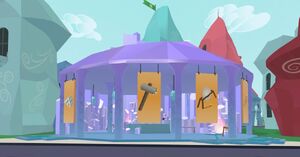 The Crystal Kingdom Armorer is located in the Crystal Kingdom, on a street connecting 1st Ring Southeast to 2nd Ring Southeast between East-Southeast Avenue and South-Southeast Street. It features a large assortment of blacksmithing tools, a fire-pit, one small pool, and few metal bars scattered around. Golden Gauntlet is standing near the fire-pit.
In future versions of the game, this area is likely to serve as a major location for crafting with the Artisan talent.
Ad blocker interference detected!
Wikia is a free-to-use site that makes money from advertising. We have a modified experience for viewers using ad blockers

Wikia is not accessible if you've made further modifications. Remove the custom ad blocker rule(s) and the page will load as expected.