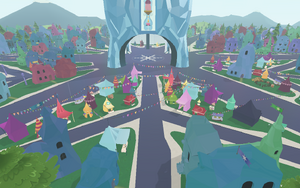 The Crystal Kingdom Fair is a region within the Crystal Kingdom which is more densely populated with fairground tents.
A variety of items are on display, though none can be obtained by players unless similar items are available from merchants (noted with an asterisk). The list of displayed items includes:
Apples*
Balloons
Books
Bracelets
Cider
Glassware
Hats*
Helmets* and lances
Horns (brass)*
Horseshoses
Jewelry
Party favors
Pies*
Skyrockets
Ad blocker interference detected!
Wikia is a free-to-use site that makes money from advertising. We have a modified experience for viewers using ad blockers

Wikia is not accessible if you've made further modifications. Remove the custom ad blocker rule(s) and the page will load as expected.