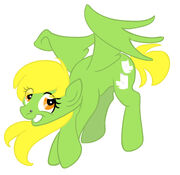 Hi there!
I gotta be honest, I have no idea what you folks might be interested in reading about me. I'm a busy bee; studying towards game design, working, and of course Legends of Equestria.
I'm one of the older mares in the herd, born -89 and live in the land of Falukorv. I often end up in streams with Swebow and talks bad english on purpose. If I'm not doing that, you can expect me to sing in a highpitch tone like the mice in Cinderella. Really. Don't challange me, your ears will ring.
My real life webportfolio can be found here (WARNING - contains illustrated violence) http://rannvaportfolio.blogspot.se/
And my deviantart is (WARNING - also some violent pictures) http://rannva.deviantart.com/
Ad blocker interference detected!
Wikia is a free-to-use site that makes money from advertising. We have a modified experience for viewers using ad blockers

Wikia is not accessible if you've made further modifications. Remove the custom ad blocker rule(s) and the page will load as expected.