Evershade Forest
Comments

5
94pages on
this wiki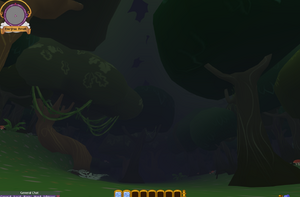 The Evershade Forest is a mysterious and dangerous forest with sprawling, winding pathways, near Ponydale. NPCs wander this dark forest, while monsters lurk in the shadows.
Upon entering the Evershade Forest the player's map is blank, and there is a dense fog that makes it hard to see, which makes it easy to get lost. The Evershade is filled with trees that make some places and roads inaccesible from the side the player is on. Pegasi can not fly over the treeline, which means the only way to get to a place on the other side is to wander along the roads.
The player's mini-map will be blank, and Everfree's layout is very maze-like with many circular paths increasing the posibility that the player will be going in circles. Swebow, Former Team leader, has posted once that the layout may or may not be changed at anytime, so drawing a map to keep track of your position may not work.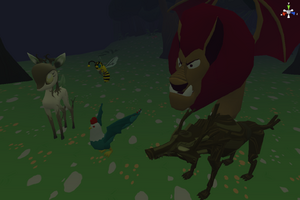 Timberwolves
Manticore
Birch Dryads
Giant wasps
Lamp monsters
Cockatrice
Locations
Edit
Zecora's Hut
Midnight Castle