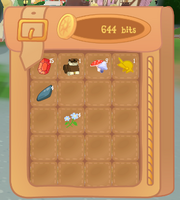 Items can be received by completing quests given by NPCs, buying them from merchant NPC shops with bits, defeating Mobs, or by finding them on the ground.
Items can be categorized into the following groups:
NPC-only items
Edit
The following items have been implemented in the game, but cannot be obtained by player ponies.
Bucket, Empty
Bucket, Full
Ad blocker interference detected!
Wikia is a free-to-use site that makes money from advertising. We have a modified experience for viewers using ad blockers

Wikia is not accessible if you've made further modifications. Remove the custom ad blocker rule(s) and the page will load as expected.