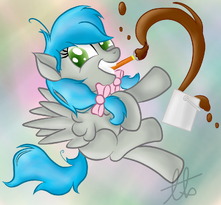 Hello everyone, my name is Darcy Sinclair, or LaptopBrony, one of the moderators for Legends Of Equestria
Biography
Edit
I was first introduced to My Little Pony, around mid-October 2011 around when Season 1 ended. It wasn't until a few weeks later, further looking into the show, that I discovered the flourishing Brony fandom, particularly all the art, animations and music that has been produced based off the show.
Off the internet, I used to work in a retail establishment as a Meat/Seafood Department Manager with experience in Cash Office, Front End, Receiving and Technical Support, with nearly 10 years of customer service experience.
I am now attending college in a three year computer programmer course, currently learning Java programming, networking, database development and Windows client configuration, majoring in Software Development.
Other useless facts and information about LaptopBrony
-I am still the moderation team's only Canadian
-My favourite colours are Pink and Sky Blue, respectively.
-I am a hardcore coffee addict
-I've begun seriously looking into the RCN(Navy) and might try applying if my programming courses fall through.
-I've been in the fandom for since 2012 years and went to BronyCon three times now(Central/Atlantic Canada needs a pony convention pretty bad...).
-I'm an aspiring artist, specializing in ponies of all things! I mainly draw my ponysona, Darcy, because she's so adorable and there is never enough art of her being adorable.
-I've delved into the art of plush making, completing my first prototype in early May 2015, but unfortunately a lack of funds and time has kept me from finalizing my pattern...
My involvement with Legends Of Equestria
Edit
I first joined the forum as a member back in late July 2012, hearing about the game through EQD and looking for a forum to call home and a community I could be a part of, as well as help with the project in any way I can. I was hired on as a moderator in July 2014 and the team has been stuck with me ever since.
I was also brought on as an implementer in 2015 but I have yet to do very much, particularly due to time constraints on my end with schooling.
Online Work Outside Legends Of Equestria
Edit
Before joining LoE I was a server admin and later a clan leader for a gaming clan from 2011 on(with recently reviving slightly XD), while also moderating other servers for other clans in that time. Until recently, I was also a content moderator and head moderator for the official facebook page for Drawponies, a well known artist in the Brony community.
As well, I'm helping to moderate a public Discord server currently in excess of 300 users. I have also developed a chat bot to help facilitate moderation, as well as to have some fun. Information about CoffeeBot can be found on my site.
Ad blocker interference detected!
Wikia is a free-to-use site that makes money from advertising. We have a modified experience for viewers using ad blockers

Wikia is not accessible if you've made further modifications. Remove the custom ad blocker rule(s) and the page will load as expected.