Home
Talk

6
284pages on
this wiki
Welcome to the unofficial Legends of Equestria wiki
Legends of Equestria, or LoE for short, is a free-to-play, independent pony-based 3D MMORPG.
In Legends of Equestria, players can explore the land of Equestria as their very own pony. Players can embark on quests of epic proportions, find new friends to help them on their journeys, interact with other online users, play minigames, engage in cartoon-style pony player vs. monster battles, find clothing to personalize their character (including hats, armour and cosmetics), go treasure hunting, role-play in different scenarios, hone their pony prowess, and much more.
Currently, this game is in pre-alpha and is still under heavy development. Due to the volunteer-oriented nature of this project, there is no scheduled date of release. However, the developers release periodic updates to keep members of the public informed on the development status of the game. Please check the Legends of Equestria FAQ Page. before querying any developers on LoE-related matters, as your question may already be answered there.


Explore the wiki
Visit the Manual of Style, and the wikitext guide to get an idea of how wiki formatting works!
External links
Website: http://www.legendsofequestria.com
Forums: http://forum.legendsofequestria.com
Facebook: http://www.facebook.com/LegendsOfEquestria
LiveStream: http://www.livestream.com/legends_of_equestria
IRC: http://webchat.irchighway.net/?channels=legendsofequestria
DeviantArt: http://legendsofequestria.deviantart.com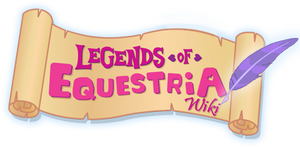 Open Server Event
An open server event is planned from
10 April 2015
to:
12 April 2015
Approximately April 10 2015 05:01:00 UTC till the servers open!
LoE Twitter Feed
Recent contributions