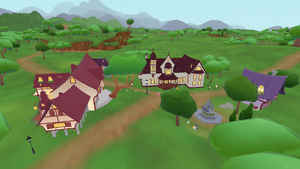 Midway Village is the largest settlement in The Heartlands, having the highest concentration of NPCs within the entire map. It also acts as a central player hub of the area by being located in the middle of the map, and being the re-spawn point for the entire area. Unlike a major town, the village lacks guards, so mobs that wander into the village can pose a threat to players seeking a safe place to rest.
Since the 8th Open Server Event, it is home to one of two locations where players can spar with each other.
Ad blocker interference detected!
Wikia is a free-to-use site that makes money from advertising. We have a modified experience for viewers using ad blockers

Wikia is not accessible if you've made further modifications. Remove the custom ad blocker rule(s) and the page will load as expected.