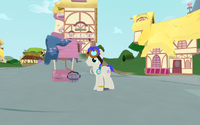 An early feature within
Ponydale
was the mysterious
Ponydale Well
, which was located close to the Town Hall and
Sugarcane Corner
. It allowed playing a Pacman styled
mini-game
. The well teleports the player to the game upon contact, working just like any other portal in the game.
Pacman-style Mini Game
Edit
Main article: Minigame
When the player walked into the well, they were teleported to a Pacman-style arcade game. The initial screen showed the player as a small purple filly, and started them off with 3 lives. Players could move by using the arrow keys.
The minigame's goal is to collect all the cookies on the screen (much like the Classic Pacman's orbs) to advance to the next level. There are cakes located in each of the four corners of the game screen, which will grant the player the ability to take out the parasprites for a certain amount of time.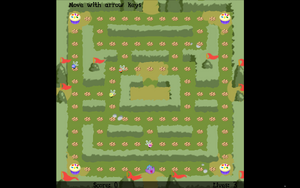 Ad blocker interference detected!
Wikia is a free-to-use site that makes money from advertising. We have a modified experience for viewers using ad blockers

Wikia is not accessible if you've made further modifications. Remove the custom ad blocker rule(s) and the page will load as expected.