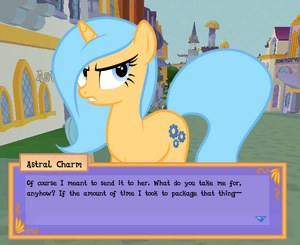 A quest is a group of interrelated tasks that usually involve a storyline, given by NPCs. In Legends of Equestria, quests can take anywhere from five minutes to a few hours of play to complete, and do not have time limits. Once completed, quests may reward items that can either be sold, equipped, or kept as mementos. They can also reward the players some XP. As of alpha 0.2 (July 29-31, 2016), there are 39 quests in the game.
Players can check their progress on a quest by clicking on the Journal icon on the bottom right corner of the screen.
Note: Due to bugs, certain quests make it impossible to complete certain other quests. This is noted below, and continues to be worked on by the development team . Players should exercise caution when attempting to complete multiple quests.
Name
Prerequisites
Length
Rewards
Foal Speed Ahead
Moderate

Rabbit Egg
3000 universal XP

Chlorophiliac

(Quest temporarily inaccessible)
Speak to Peacebloom to begin

Moderate

Raincloud Hat
1000 universal XP

A Four Star Restaurant
Very short

30 Bits
Bronze Helmet
Messerschmitt's Letter
1000-2000 universal XP

Fission Mailed
Moderate
Clearing Up the Rainy Days
Short
Good Old Days
Very short

10 rock candies
1000 universal XP

Rhyme of the Ancient Aviator
Short

1 Smooth Rock
1 Lantern
500 universal XP

Please, Mr. Postpony
Moderate

10 Bits
Cookie
Scroll Bag
1000 universal XP
Name
Prerequisites
Length
Rewards
Foal Time Student
Moderate

Rabbit Egg
1500 universal XP

Intensive Carrot Unit
Moderate
Cutting it Close
Very short

1000 universal XP

High Time for Pie Time
Short

7 Bits
Empty Pie Tin
1000 universal XP


Just a Stone's Throw Away
Very short

Satchel Bag
1000 universal XP

Removing Cookies and Browsing Data
Long

Hullabaloo's Headphones
2000 universal XP

Picking Up the Pieces
Moderate

50 Bits
Gala Boots
1500 universal XP
Name
Prerequisites
Length
Rewards
Foal Life Consequences
Moderate

Rabbit Egg
3000 universal XP

Supplying the Hospital
Moderate

Assistant Nurse Cap
2000 universal XP

Dandelion Tamer
Very short

Dandelion Bracelet
500 universal XP

Good Egg
Short
Dust and Bunnies
Short
Mindless Violins
Extremely long

512 Bits
Argyle Socks (Front Legs)
Cat Egg
9001 universal XP

Klondike Hikes
Very short
Strawberry Fields
Very short

100 Bits
Strawberry Torte
1000 universal XP
Unlocks Beep, Beep Delivery

Beep, Beep Delivery
Moderate

Strawberry Pie
2500 universal XP
Name
Prerequisites
Length
Rewards
We'll Fix It In Post
Moderate

100 Bits
"Sand to Stardom" Prerelease Copy
1500 universal XP

Shown Their Work
Short

50 Bits
Catalepsy, Signed 1st Edition
1000 universal XP

Straight and Narrow
Very short
Startrot: The Mysteries of Space
Very short
Dishonorably Discharged
Very short

Iron Back Legs
100 universal XP

Following In Her Hoofsteps
Short
300 Bits
Name
Prerequisites
Length
Rewards
It's All About Me
Short
A Visa to the Heart
Very short
Special Star's Heroic Deed
Short
THEWBEARD the Barbarian Pirate Book 6

500 universal XP

Letter of the Law vs. Spirit of the Law
Short
The Choices We Make
Short

0-1000 Bits


Foal Delivery Express
Short
250 Bits


250 universal XP

Crystal Inquisition
(Unknown)
Short
2 Socks
500-800 universal XP
As of alpha 0.2, Legends of Equestria has more quests than the number of free-to-play quests available on the popular MMORPG Runescape
Ad blocker interference detected!
Wikia is a free-to-use site that makes money from advertising. We have a modified experience for viewers using ad blockers

Wikia is not accessible if you've made further modifications. Remove the custom ad blocker rule(s) and the page will load as expected.